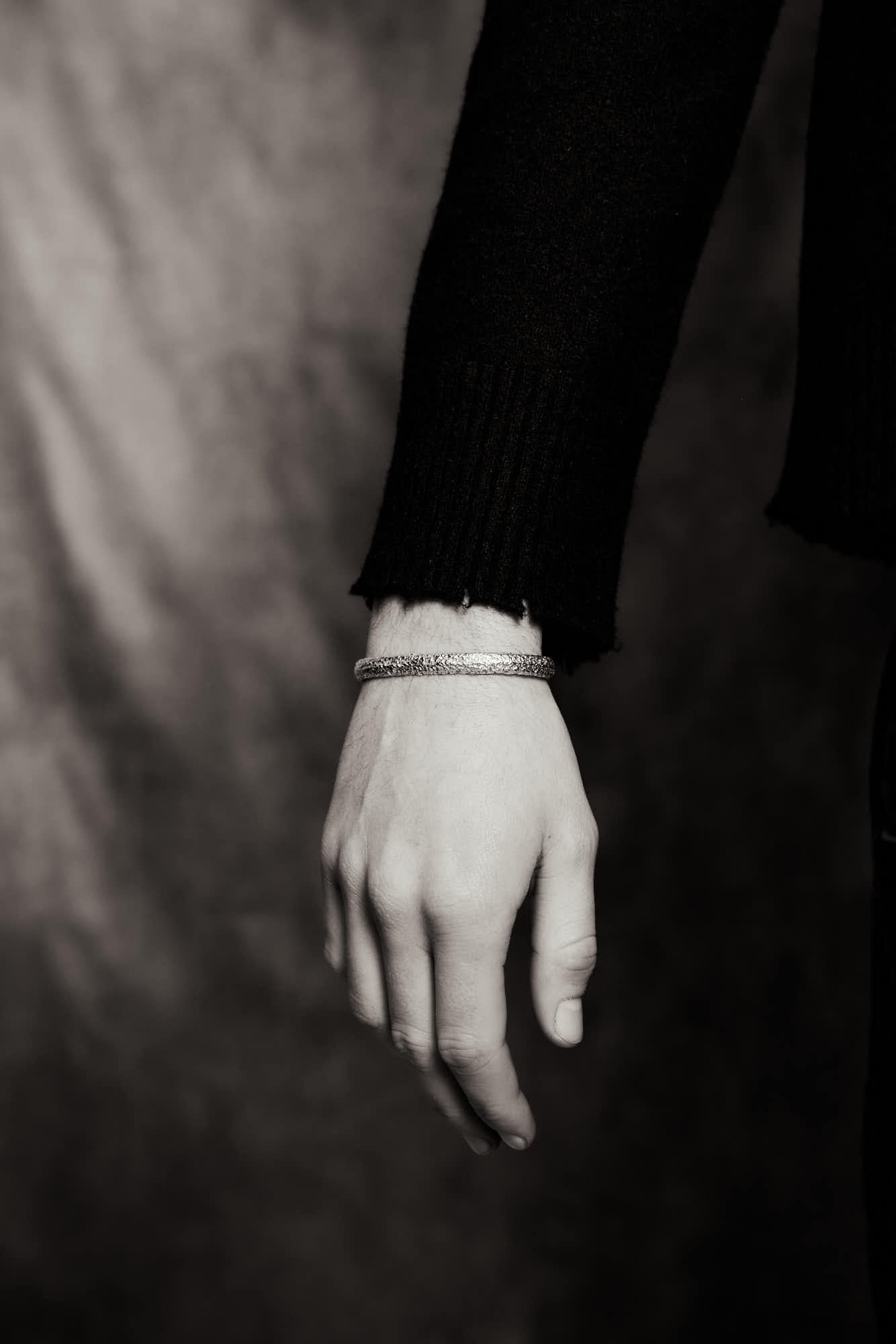 Description

Handmade Jewellery
This Molten Cuff is a real everyday piece. The piece is satisfying to wear due to a combination of its un-uniform textures on the outside and clean smooth finish on the inside. Its texture has been created through a series of artisan casting techniques. Due to the process, every cuff is custom made, making each a one off unique piece of jewellery. 
Made from recycled sterling silver.
Choose your size depending on wrist circumference:
Small: 15cm
Medium: 17cm
Large: 19cm
Extra Large: 21cm
Every piece is cast in 100% recycled sterling silver. Everything is handmade and made to order. Due to this, each piece will vary slightly making every one piece unique. For rings, If you are unsure of your ring size please check out our Size Guide for more Information and order yourself a Plastic Ring Sizer.
Pieces can take 1-3 weeks to be made depending on demand. If this is a concern, please get in touch prior to ordering for more info.
Interested in one of these pieces in gold? Contact me via the bespoke page for a quote!
---
Free Tracked Shipping on UK Orders
Free 30 Days Returns Policy
Made from high quality recycled materials
Shipping and Returns
Shipping
In most instances, it will take two to three weeks to receive your piece(s) after purchase. However this could take longer. Please be patient with us as we are one man team and in times of high demand we can get overwhelmed.
If the turnaround time of the order is important for you, please contact us here prior to ordering so we can give you an idea of lead times. We'll be sure to get back to you ASAP with a time frame estimate.

We offer FREE SHIPPING to anywhere in the UK.
Unfortunately we cant offer free shipping to outside of the UK, but we do offer a good tracked international shipping service. The fee is displayed at checkout.
Returns
Free 30 Days Returns:
In the event that you are unsatisfied with your purchase because the piece you acquired is damaged or you believe it isn't up to standard, we will give you a full refund where appropriate or make you another piece.
If your ring is too tight for you, where possible we will happily enlarge it for you for a charge of £10. The client must organise shipping to us. We are not liable for any issues incurred while the product is in transit to us.